The Marc Castellano Thanksgiving Day 5K Turkey Trot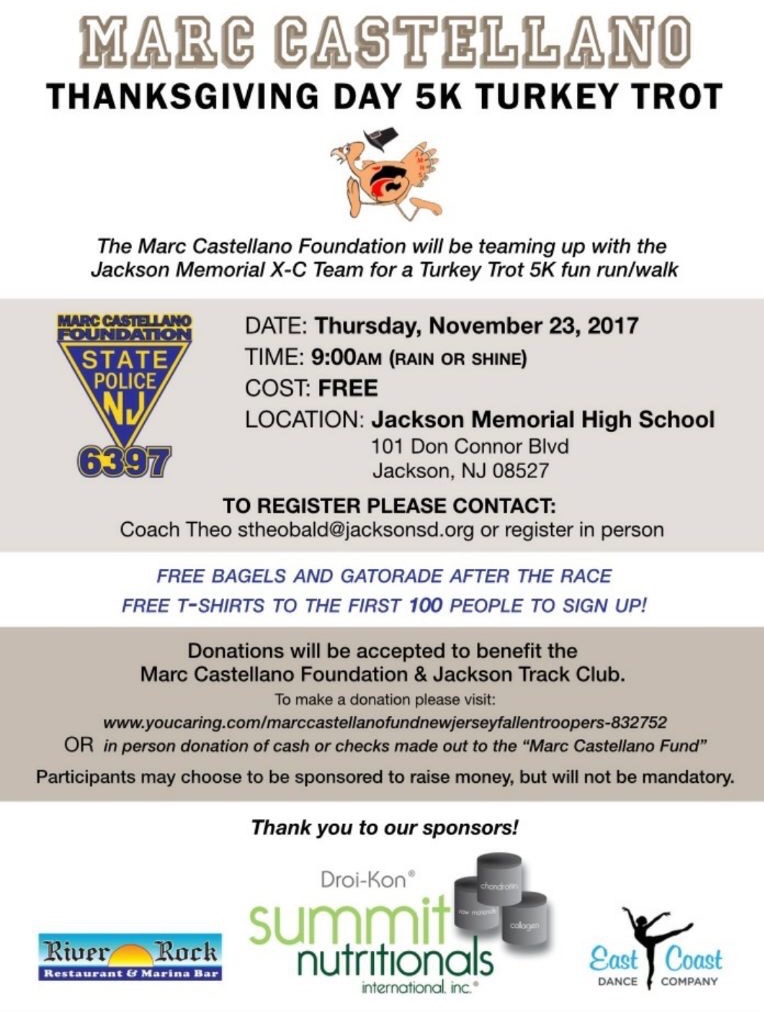 Marc K. Castellano was born on July 15, 1980 in Lakewood, New Jersey and lived in Jackson until he moved to Howell, New Jersey in 2004. He was a graduate of Jackson Memorial High School in 1998 and received a Jackson PBA scholarship that year. He received his associate's degree from Ocean County College in 2000, a Bachelor of Science degree from Rutgers University in 2003 and a Master's degree at Farleigh Dickinson University in 2010. Marc was a two-year starter at middle linebacker from 1996-1997 and a team captain during his senior year for the Jackson Memorial High School football team.
Trooper Castellano enlisted in the New Jersey State Police on September 24, 2004, as a member of the 136th Class and was assigned to the Troop "C" Tactical Patrol Unit #1 at the time of his death. His service with the New Jersey State Police was characterized by loyalty, fearless performance of his duty and faithful and honorable devotion to the principles of the New Jersey State Police.
Trooper Castellano died as a result of injuries received while in the performance of duty.
At approximately 10:00 am on Sunday, June 6, 2010, Trooper Castellano was walking along the shoulder of Interstate 195 West near the Exit 31 ramp in Howell Township. He was searching for an alleged armed occupant of an abandoned vehicle that was connected to an ongoing investigation when he was struck by a passing motorist. He was taken to Jersey Shore University Medical Center in Neptune, New Jersey, where he died several hours later from his injuries.
Trooper Castallano served 5 years and 8 months with the New Jersey State Police.
He is survived by his parents, a brother, his wife and two children. Trooper Castellano was 29 years old.